In A24's buzzy Gen-Z supernatural horror-thriller "Talk to Me," an embalmed hand is the gateway to the spirit world for thrill-seeking teens, even if Mia (Sophie Wilde), quietly mourning the anniversary of her mother's death, is looking for more than just a distraction. Light a candle. Grab the hand. Say the magic words. Just don't leave the door open too long, or the adrenaline rush will come at a terrible cost.
Not that Aussie YouTubers-turned-filmmakers Danny and Michael Philippou, both 30, would turn down the chance to party with the undead. Speaking to The Times during a recent stopover in Los Angeles, the energetic twins lit up explaining their attraction to haunted places and the night they spent looking for ghosts on the Queen Mary.
"They restricted the area that you were allowed to go to, but it's a huge ship and we lost ourselves on the boat," Michael says with a grin.
Their morbid curiosity didn't take a break while shooting their feature debut, "Talk to Me," in a hospital said to have a haunted wing. "After filming wrapped, the security guard cleared everyone out, and we snuck past and had a slumber party," says Danny, sporting bleached blond hair, erupting into peals of laughter with his brother. "Even now, we're obsessed with the paranormal."
So if they stumbled across a possessed limb that could open a portal to another realm, there's no doubt that their younger selves would try it in a heartbeat.
"I would absolutely do that then, and I'd absolutely do it now," Danny says without hesitation as the duo settles into a suite at the Four Seasons Beverly Hills. He marvels at their unlikely journey — from rambunctious kids making mischief and backyard movies, to Sundance breakouts.
"We had two paths we could have gone down," he says of their childhood in the suburbs of Adelaide, South Australia, voraciously consuming pop culture, video games and pro-wrestling inspirations that would shape their hyperkinetic style. "We were delinquents running around the neighborhood. We were interested in being menaces, and filmmaking."
We never set out to become YouTubers — we always set out to be filmmakers.
— "Talk to Me" co-director Michael Philippou
Thanks to a family friend who nudged them toward creative outlets, filmmaking won out, and they began making their own short projects. With increasingly inventive stunts, effects and DIY daredevil antics, they amassed nearly 7 million YouTube subscribers and more than 1.5 billion views, creating videos like "Harry Potter VS Star Wars" over a decade of viral comedy-horror shorts starring themselves, under the moniker RackaRacka (a riff on their hometown of Pooraka).
Typically it was Danny behind the camera and Michael onscreen, the two trading off in the edit and splitting post duties, learning how to make the most of minimal resources. Among their varied artistic influences, they say, are the genre-defying films of Bong Joon Ho, author R.L. Stine and "Xena: Warrior Princess." Says Michael, "We never set out to become YouTubers — we always set out to be filmmakers."
Inspired by an idea from filmmaker friend Daley Pearson about kids getting high on supernatural possession, they poured their own personal themes and experiences into "Talk to Me," which Danny wrote with longtime collaborator Bill Hinzman. Unlike their playful YouTube videos, it was an opportunity to explore horror storytelling as therapy, examining loss, addiction and the isolation that can come out of profound grief.
"I never felt like I could really personally express myself on the YouTube channel — I was so scared of being vulnerable there," says Danny. "That was me talking to the audience but not expressing things that I was going through emotionally, or touching on things like mental illness or us losing our grandpa at 13, or suicide being in our family. We couldn't make content to express that artfully."
After flirting with several U.S. studios during their two-year journey to get the film off the ground, the duo and producers Causeway Films made "Talk to Me" independently in Adelaide before premiering it at Sundance earlier this year, landing an A24 distribution deal and industry attention with its rollicking pace, gut-twisting scares and sense of youthful, nihilistic doom among the Snapchat set. (Upcoming projects include a new "Street Fighter" movie for Capcom and Legendary Entertainment).
With "Talk to Me" in theaters and racking up critical raves, the filmmakers sat down to spill behind-the-scenes secrets of three key sequences in their debut. (Warning: Anyone hoping to avoid spoilers should float off to their own private spirit zone from here on.)
An epic one-shot through the party from hell
WATCH: Cole (Ari McCarthy) arrives at a house party in search of his brother in the opening tracking sequence of Danny and Michael Philippou's "Talk to Me." (Courtesy of A24)
"Talk to Me" hits the ground running with a much-talked-about, one-take, cold-open set piece that follows Cole (Ari McCarthy) as he arrives at a rollicking house party. Concerned, he winds through a crowded backyard and into a kitchen searching for his brother Duckett (Sunny Johnson), who at first seems disoriented, as if he's done a little too much partying. Although the audience will piece together the details later, Duckett is already under the influence of dark forces, hiding away in a bedroom after partaking in viral séances local teens have been posting to social media.
"We wanted a scene that pulled the audience into our world," says Danny, citing great "oners" in cinema history, from Alfonso Cuarón's 2006 sci-fi "Children of Men" to Romain Gavras' recent thriller "Athena."
The filmmakers enlisted cinematographer Aaron McLisky after watching his work in the single-take short film "Nursery Rhymes" and established rules that their opener would follow: The camera wouldn't move on its own, but track characters through the hectic scene. Subtle details foreshadowing the story to come would be hidden throughout the shot, and, as in real life, you'd only hear selective dialogue in passing as a thumping party track looped underneath, punctuated by an increasingly uneasy sonic landscape by sound designer Emma Bortignon.
Cole breaks through the bedroom door and tries to guide his brother out of the party, backtracking through the house. But rather than help, the crowd smells a viral social-media moment and pulls out their phones to record. The tension reaches a fever pitch before bursting into shocking violence before the opening credits.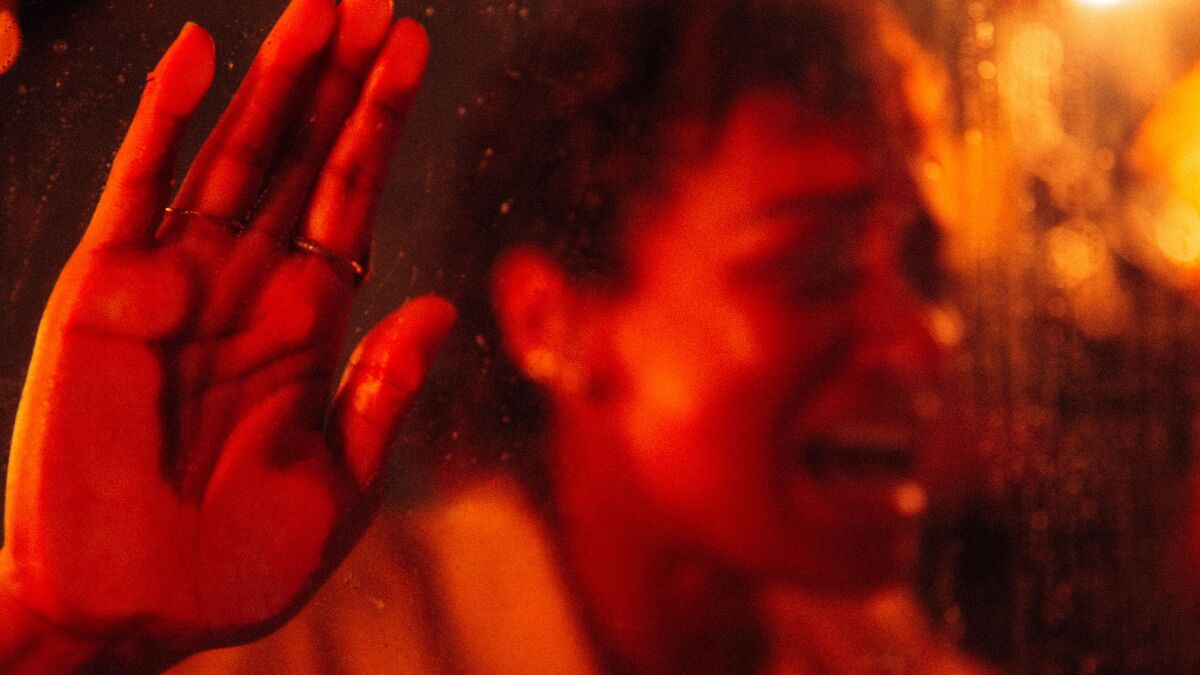 We didn't finish till 4:30 in the morning… everyone just exploded and started mosh-pitting in the center.
— Michael Philippou
"A big story that inspired 'Talk to Me' was this neighbor that we watched grow up," remembers Michael. "When he was experimenting with drugs and having a negative reaction, all the kids that were with him watched him convulse on the floor, just filming him and laughing. It feels like a weird part of our culture.
"It's a way to disassociate yourself," adds Danny. "For kids now, if there's something horrible happening you pull your phone out because when you watch stuff through the phone, you can watch safely. That might be subconscious: You pull out your phone and record because you're not really there."
Because of the choreographical challenge of the sequence and the number of extras present, the opener was the last scene of the shoot. But filming in their hometown had its benefits. The Philippous licensed music from Australian artists including singer Takara, who'd worked on their RackaRacka videos, and Sia, who gave them her global hit "Chandelier" for a reduced fee as a fellow Adelaidian. They put out calls to their followers for background actors to fill the set for the last day of shooting.
Still, it proved tricky to find the right location, a house with a layout that could reveal new details as the camera tightly followed the actors. And the Philippous had only 10 prop doors for McCarthy to break through, a crucial piece of action that had to go off smoothly midway through the shot. "We had 10 doors, and we went for 10 takes, and we got it on the last one," says Danny with a relieved laugh.
"We didn't finish till 4:30 in the morning," says Michael of the final take, which marked the wrap of filming. "As soon as we called cut and had it, everyone just exploded and started mosh-pitting in the center."
Adds Danny, "It was such a f— awesome night."
At least, for everyone working on the movie, notes Michael: "Those poor neighbors!"
Séance shenanigans and a ticking clock
WATCH: Teens party with an embalmed hand that can conjure spirits in "Talk to Me." (Courtesy of A24)
Before depicting the horrific consequences of reckless possessed-hand use, the directors wanted to show the audience why the spirit world was so alluring to their characters — a gateway drug to hell.
"They're getting high on this homemade bong and not really understanding that different bodies react differently, and people can have bad trips," says Danny. "And if you're in a negative head space, you can have a negative experience."
This "fun" séance montage, in which Mia, her bestie Jade (Alexandra Jensen), and their friends Daniel (Otis Dhanji), Hayley (Zoe Terakes) and Joss (Chris Alosio) take turns channeling ghosts through the hand, sets a boisterous tone thanks to the 1957 Edith Piaf tune "La Foule," with its lyrics about connection and joined hands.
"It took a while to find the song," says Danny. Sifting through hundreds of options, they landed on the thematically apt song, which Wilde performs in French, mid-possession. The directors imagined how real teenagers would react, craving a turn after seeing other kids do it on social media. "People would be like, 'I watched that video, that's horrible — how do I do it?'" says Danny.
People would be like, 'I watched that video, that's horrible — how do I do it?'
— Co-director and co-writer Danny Philippou
It helped that the cast, directors and producers had gone through an unusual trust exercise of sorts: They all watched one another play out a "possession," to dissolve any embarrassment when it came to filming. That preparation came in handy when they had just two hours to shoot the entire sequence.
"There were 50 setups for that montage sequence that we wanted to hit," recalls Danny. "It was the last day we were in that house. Every shot was what we were going to have forever. The first A.D. said to us, 'This is mathematically impossible.' And we said, 'Let us control the set for two hours.'"
Blasting music on a boombox to hype up the mood, they brought each cast member out to a WWE entrance song, including John Cena's, and spent the next few hours shouting out directions and improvising while filming on two cameras.
"There was beauty in the chaos and we were just capturing it," says Danny.
While the Philippous preferred to use "practical" in-camera effects throughout the film, aided by makeup and prosthetics, they did rely on one unexpected bit of movie magic — a blend of CGI and a hand-operated puppet — to achieve a moment in which Otis, under the influence of a spirit, makes out with Jade's dog.
"He did not kiss the dog," says Danny, for the record. "That seems illegal."
Fleshing out the spirit world
WATCH: Mia (Sophie Wilde) is visited by a familiar presence (Alexandria Steffensen) after séances spin out of control in "Talk to Me." (Courtesy of A24)
The filmmakers wrote a thorough "Talk to Me" bible detailing the mythology, provenance and powers of the mysterious hand, a motif partially inspired by Danny's own experience after a car accident at the age of 16.
"They thought I might have broken my spine, I was in hospital and I just couldn't stop shaking," he says. "The doctors didn't know why I was so cold. Then our sister sat next to me and held my hand, and the shaking stopped. I thought about how the touch of someone I love brought me out of this state of shock. That moment always struck me, the power of human touch and connection and how scary that is for someone that doesn't have that, or is losing that."
Like Duckett at the start of the film, Mia starts feeling the effects of too many conjuring sessions with the hand, spurred to keep reaching into the void for answers that will ease her grief. The hand becomes her vice, and with it comes a specter that appears in the form of her mother.
But the ghouls have reasons for reaching back. The filmmakers mapped out each spirit's history and true motives, from comically sucking on toes in the middle of the night to more sinister and gruesome ends.
"[Each kid's] aura and state of mind is attracting certain spirits to them," adds Michael, speaking to the predators that have their hooks in Mia. "She's been used by these things and she's falling victim to them, doing what she thinks is right. Sometimes those negative thoughts can get into your head. You have to really be careful about who you're letting in emotionally in that time."
Mia's fracturing psyche reaches a breaking point in her bedroom, where the demon appearing as her mother, Rhea, preys on her vulnerable state of mind. Elsewhere in the house, we see her father Max (Marcus Johnson) waiting so that they can finally face the truth of Rhea's death together.
"It's what I call our 'All is lost' moment," said Michael. "I wanted to try and capture the idea that things aren't always as bad as you think they are when you're sitting alone in your head. You can get out of that room."
But the malevolent spirit has other plans. Tricking a distraught Mia into thinking her father is being impersonated by a spirit that will hurt her, it manipulates her into a desperate act. "Mia is unwinding and being stripped of every ounce of intimacy throughout the film," says Michael. "And Sophie just portrays that so well."
Beyond Mia's fate, the Philippous say they've got enough lore to power 20 more films in the universe. They already have the perfect sequel title ready: "Talk 2 Me."
And while certain projects are on pause due to the Hollywood strikes, the brothers are eager to direct again. No matter how much fun they seem to be having, they're quite serious about their long-term filmmaking plans and have another horror script and a genre-blending feature based "loosely" on their childhoods that they describe as "Mad Max on BMX bikes" in their back pocket.
"We've wanted to make a film since we were 9, when we started shooting stuff," says Danny. "That has always been the dream." The door now seems open to them, and the Philippous aren't ones to linger on the threshold.
For all the latest Sports News Click Here 
Denial of responsibility!
Technocharger
is an automatic aggregator around the global media. All the content are available free on Internet. We have just arranged it in one platform for educational purpose only. In each content, the hyperlink to the primary source is specified. All trademarks belong to their rightful owners, all materials to their authors. If you are the owner of the content and do not want us to publish your materials on our website, please contact us by
email – 

[email protected]
. The content will be deleted within 24 hours.